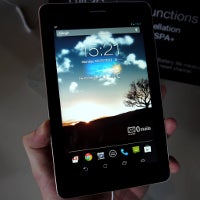 It is not everyday we see an Intel-powered Android tablet, that's why we were very intrigued to get some hands-on time with the
Asus Fonepad
7-incher. In fact, you can't really tell what kind of silicon is powering the contraption, as the Jelly Bean interface moves as smooth as we are accustomed to on ARM-based CPUs, so the average person wouldn't even know there is Intel inside.
The 7" 1280x800
pixel
display is of the IPS variety, so the viewing angles are very good, it is bright and with well-defined colors, and we only wish your average laptop came with such screen tech.
The Asus Fonepad is actually very well built for its mere $249 price it will land at in the US. Sturdy anodized
aluminum chassis
wraps the internals, and the brushed metal finish makes it seem much more premium than your average Android slate. We understand Asus has to make it stand out to entice buyers to try out the Intel-powered Android variety, and we don't complain as its buyers can only profit by the premium looks and feel in the hand.
There is a hidden slot compartment at the top, which reveals a
microSD and micro SIM slots
when you remove the soft-touch plastic cap, hinting at another pleasant surprise with the Fonepad, which gave it its name. You can insert your SIM card inside and use the slate to
make phone calls
, or download data with up to 21 Mbps HSPA+ speeds.
There is a 3 MP rear camera in our hands-on version, while the UK one doesn't seem to have it, which is not a biggie on a tablet, and a front-facing 1.2 MP shooter will let you do those video chat sessions from the couch. The non-US Fonepad variant, however, will come with twice the native storage - up to 16 gigs. The noise-cancelling mics should also ensure crisp voice quality, and Asus has loaded it with the Sonic Master surround audio tech for fuller sound from the speakers.
Despite the anodized aluminum chassis Asus has managed to
keep the weight at bay
, and we didn't feel our wrists tired from holding the 340g slate; the Fonepad, at 10.4 mm, is
thicker
than the most anorexic slates out there, but the build quality and features for the price more than compensate for this, plus the back is tapered for better grip. Take a peek at out hands-on pictures with the Asus Fonepad in the slideshow below, and think of next month when it should be available stateside for $249.