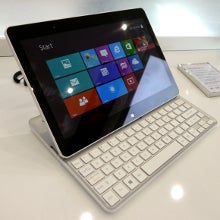 The concept of equipping a tablet with a built-in hardware keyboard isn't exactly new. ASUS was among the very first manufacturers to give the idea a shot by releasing the
Eee Pad Slider
, which wasn't a bad device at all, although it didn't quite sell by the boatloads.
Now comes the Windows 8 powered
LG Tab-Book
with its 5-row sliding QWERTY aimed at those who need a portable device built with productivity in mind. Did we say portable? Well, maybe not as much as a modern-day tablet. The LG Tab-Book weighs 1.25 kilograms and is 19.4 millimeters thick, which is about twice the weight and thickness of an iPad. So yeah, that's the sacrifice one has to make if they demand having a a
slide-out physical QWERTY keyboard
always at their disposal with the press of a button.
The touchscreen on the LG Tab-Book is of average quality for a tablet. It has a resolution of 1,366 by 768 pixels, which is about what you'd get from a mid-range notebook computer. On the bright side of things, the
panel is of the IPS variety
, with pretty colors and decent contrast levels.
Knowing that a third-gen
Intel Core i5
processor is ticking inside the LG Tab-Book, we're not surprised to see that its performance is top notch. When it isn't being pushed too hard, the chip hums at 1.8GHz, but that figure can go up to 2.7GHz when additional power is needed. Furthermore, there's a respectable 120GB SSD tucked inside and 4GB of DDR3 RAM for seamless multitasking.
With the LG Tab-Book you also get a 1.3MP front-facing camera, HDMI output, microSD card slot, and a pair of 0.5W built-in speakers. Getting connected to the internet is done either via its mini RJ45 port, or over Wi-Fi, or by using the device's
4G LTE radio
. Its internal battery should last through
6 hours of continuous use
.

So in conclusion, with its specs and features, the LG Tab-Book isn't meant to compete with the iPad or the multitude of Android slates, but it can be a very tempting alternative to an Ultrabook, depending in the final price it launches at.