Liveblog: Samsung Galaxy Note 3 and Gear smartwatch unpacked IFA 2013 event
45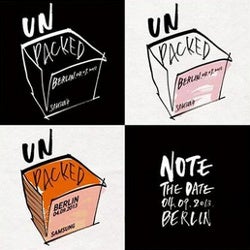 Samsung is getting ready for a massive second Unpacked event where it will lift the cover off some of the year's most anticipated devices: the Galaxy Note III and its first smartwatch, the Galaxy Gear.
It's been two years since Samsung unveiled its first large phone, the
5.3
-inch Galaxy Note, a device that was so successful it started a new category of devices some call phablets, a crossover device between a phone and a tablet. It featured a built-in S Pen that was refined later on, and now we're about to see the third generation Samsung phablet - the Galaxy Note 3. The Note 3 is expected to grow an even larger screen without changing much in size, it should have a 5.7" 1080p display (first 1080p display in a Samsung phablet), and of course the S Pen.
That's not all though. Samsung is widely expected to also unveil its first Android-based smartwatch, the Galaxy Gear, a device rumored to have a humongous 3-inch design. Can Samsung really step up its game and be the first big phone maker to offer a breakthrough smartwatch? We should learn very soon at Samsung's huge IFA event.
Samsung's IFA 2013 Unpacked press conference will start at the following times:
10:00AM — Pacific (PT)
12:00PM — Central (CT)
01:00PM — Eastern (ET)
06:00PM — London
09:00PM — Moscow
02:00AM (September 5th) — Tokyo