Liveblog: Google I/O 2015 Keynote Address
6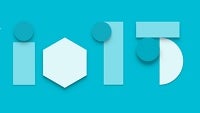 Are you ready for another gathering of developers from around the world who shape our very existence around Android, Chrome OS, and other Google services?
We are, and we cannot wait to see what Google has in store for the world as Google I/O 2015 is ready to get started. Like last year, Google's developer conference is two days, a morning Keynote address, and then another day-and-a-half of code labs, workshops, and presentations.
It is all but certain we will be introduced to Android M (
Macadamia Nut Cookie
? Nah...), though beyond that, it is still a guessing game about the feature set, the name, or even what version number it will be bestowed. Like KitKat, and Jelly Bean before it, we would not be surprised if Android M were an iterative step in version 5.x, but this is all conjecture. What is less of a guess is that we are expecting to see a
formal time frame
for OS and security updates.
Voice interaction is thought to take on a more significant role this year. Another rumored feature called
Nearby
may prove interesting, alerting users when they are near friends or other Android users. What could make that more interesting is there is a presentation after the Keynote discussing video chat for Web, iOS, and Android. Either way, we would not expect the feature to be as boxed-in as iOS' Airdrop.
Google I/O is not all about Android, however. Indeed, we expect to see announcements related to
Project Fi
, Nest home automation, and Chome OS as well.
Project Tango
, Project Volta, are on the schedule of events during the conference, so perhaps the spotlight may shine on them with updates.
It's all happening in San Francisco! Keep a browser window open just for us!
The Google I/O 2015 Keynote Address is scheduled to begin at 9:30am PT | 11:30pm CT | 12:30pm ET | 5:30pm GMT!