Android M is internally known as Macadamia Nut Cookie, but this means nothing
20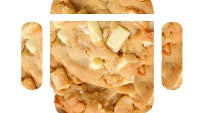 With
Google I/O 2015
kicking off in a few days, we are probably getting closer and closer to the potential unveiling of the next flavor of Android, the name of which will certainly
begin with an "M"
. Yes, Lollipop is here and it is, all things considered, one of the best renditions of the OS, but Google certainly can't afford resting on its laurels.
From the looks of it, Google is internally referring to the upcoming Android flavor as Macadamia Nut Cookie, or MNC. This name was spotted in certain code branches in AOSP, but what does this mean? Well, nothing, actually, as it only confirms that the real deal won't sport this arguably long and cumbersome to remember name in particular.
See, Google is obviously fond of three-word codenames for its major Android editions.For example, KitKat was rolling under the Key Lime Pie alias, whereas Lollipop was named Lemon Meringue Pie. Never before has a codename turned out to be the real name of the OS version, and Android M is unlikely to break this tradition.
Last year, it was at I/O 2014 when we got our first sneak peek at Android Lollipop and all of its Material Design goodness. However, at the time of its announcement, Google called it Android L and revealed its sweet name in November. We are pretty much sure that Macadamia Nut Cookie will follow suit - it will probably be known as "Android M" until Google decides to give it an official dessert-related name.
Speaking of names, we have a handful of possible candidates. Your
favorite turned out to be "Marshmallow"
, with "Muffin" and "Milkshake" being the runner-ups.
source:
AndroidPolice