Monster tablet: Google's Project Tango dev slate with 4GB of RAM pops up on the Play Store
20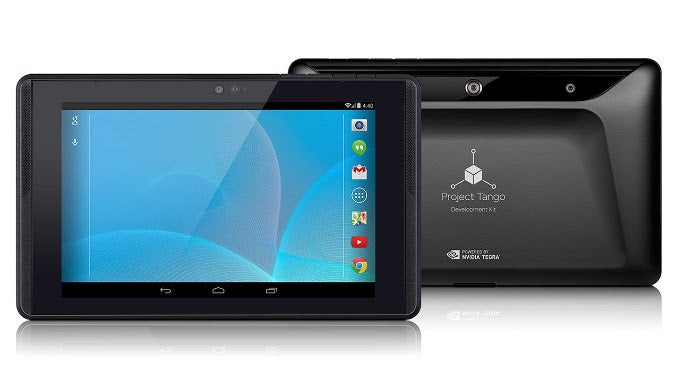 When Google agreed to let Motorola's handset biz go in the hands of
Lenovo for $2.9 bn
, the sale didn't include the ATAP team (Advanced Technologies and Projects, not to be confused with Google X) – or the folks behind
Project Ara
. The same team is also responsible for the moonshot
Project Tango
– a smartphone or tablet that makes use of two rear cameras and two sensors to create a 3D model of your surroundings. Kind of like Google Street View, except it's indoors and the interior is shot through your smartphone or tablet, and not Google's
Trekker
.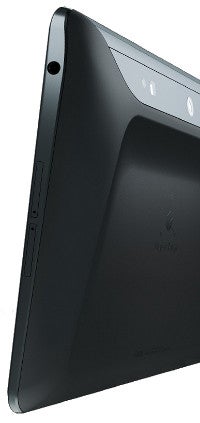 Today, the first Project Tango tablet was made available on the Play Store. Mind you, it's a developer kit and not aimed at the consumer base, though it actually looks good enough to pass for a consumer product (more so than the Project Tango smartphone). Pricing has not yet been listed, but we do have a breakdown of the specs (we've known these for a while now), and they're quite impressive.
The Project Tango Tablet has a 7.02-inch IPS display with a resolution of 1900x1200 (323 ppi), covered with a protective layer of Gorilla Glass (exact iteration unspecified, but likely GC 3). Underneath it, Google has fitted an NVIDIA Tegra K1 quad-core chipset with four cores that peak at 2.3GHz and a Kepler GPU with 192 CUDA cores. The memory loaded onto the device is also quite impressive – we're looking at a whopping 4GB of RAM and very generous, 128GB of microSD-expandable storage (additional 128 gigs). There's a 1MP front-facing camera with fixed focus and an IR LED along with a 4MP rear cam with an RGB-IR sensor and (relatively) giant, 2µm pixels. The latter shooter is also joined by a tertiary,
motion
tracking camera and a 3D depth sensing sensor. All of this is powered by a hearty, 4,960 mAh battery pack (which is actually comprised of two 2,480 mAh cells). Still not impressed? How do dual, front-facing stereo speakers sound? No? Okay, we're out.
The only real downside to the slate are the fact that it seems like it will run Android 4.
4.2
KitKat and not 5.0 Lollipop out of the box, and its bulky dimensions – it measures in at 4.71 x 7.73 x 0.6 in (119.77 x 196.33 x 15.36 mm) and weighs 13.1 oz (370 g). You might still be thinking, "Hey, that's still not so bad", but do keep in mind that preliminary info points towards a price tag of upwards of $1,000. If that wasn't enough, these devices will be sold as-is, so you'll likely be out of luck it it arrives defective. A true dev device, in other words.
We still want it.