Live wallpaper brings iOS7-like background effects on Android
24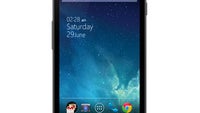 This was bound to happen sooner or later. The fancy parallax wallpaper effects – one of the many
new features in iOS 7
– can be enjoyed on Android as well thanks to this live wallpaper application. Appropriately named "3D Parallax Background", the software gently pans the background image depending on which direction the smartphone or tablet is tilted, thus creating the illusion of depth.
The app comes with several background images pre-loaded, but the user is free to pick a wallpaper of their own, of course. Its developer claims that having this live wallpaper enabled should have a barely noticeable effect on battery life. In fact, the app is automatically brought down to a halt so that it doesn't use any of the CPU's time. Nevertheless, there are settings that can reduce its power consumption even further.
3D Parallax Background does not come free, but at least it won't plague your smartphone or tablet with annoying pop-up advertisements. Here's a quick video demo of the app in action!