Latest version of Ovi Maps allows you to download maps without a PC
1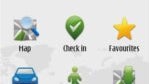 Just when Google decided to show off the latest features expected out of its
Google Maps app for Android devices
, Nokia is countering back by making available today the latest version of their popular free navigation app; Ovi Maps.
Needless to say that the best new feature out of this latest version is the ability to download street maps directly onto a device
without
the need of a computer. Essentially, there is an"Update" option in the main menu that will instantly allow you to download maps onto your handset – but still, Nokia suggests doing it over Wi-Fi as opposed to 3G connectivity. So even in the event you lose connection to the network, you can still count on your handset to provide directions to your destination since maps are stored locally.
Some of the new features include the ability to perform a long tap for the renaming and removing of collections and routes, the back button has been added in Favorites, refreshed place details information view, improved transit lines settings in the map, and a compass calibration hint.
Despite seeing a steady string of
fierce competition
from all sides, Nokia is doing what they can to keep ahead of the curve – more now than ever when navigation is being
deeply intertwined
with a myriad of mobile devices.
via
IntoMobile