Google Maps for Mobile will get on-device caching and 3D views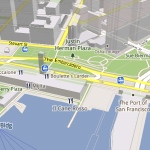 We've been waiting for this for a long time:
Google
is about to release a new version of Google Maps for Android, which will include on-device caching. That means you can store map data from commonly trafficked areas, and access stored maps offline. It will also ensure continuity if you briefly lose signal.
Google's Andy Rubin reports that the new version will also consume less data: "You could load a whole state." The trade-off is that the less data-hungry version will instead consume more processing power. Michael Siliski of Google Maps for Mobile insists that battery life won't be affected. Because the new Google Maps will heavily depend on the phone's processor, you will see smoother zooming and scrolling.
Google Maps Navigation
will receive a significant update as well. The current version can cache routes for offline navigation, but doesn't reroute users when they go off-course. The new version will be able to reroute users back to their intended path in up to 90% of possible scenarios.
There will also be 3D data for 100 international cities, so you can manipulate your 3D perspective as you would on your desktop. There's no word on which cities they are, but Google will surely come to include all major cities eventually.
Were you curious when you might see the new version of Google Maps for Mobile? "It will be available for cell phones in a matter of days," says Andy Rubin. It will initially be available for more recent Android versions, but will eventually expand to other operating systems.
source:
PhoneScoop