Last.fm for Android finally gets redesigned, new features also pop up
1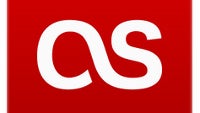 If you've been using Last.fm's Android app during the past few years, you're probably used to its archaic, never-changing interface that was totally not in line with the majority of its often-updated rivals.
Well, the days of Last.fm's old design are over - the app has been completely redesigned and has not lost any of its core features. What's more, the app is now better than ever thanks to the few new functionalities that it has scored alongside the cosmetic update.
Last.fm for Android now allows its fans to "scrobble" to some new web sites and services, like Spotify, Deezer, Rdio, Google Play, SoundCloud, and others. This way, you will keep tabs on all the rad jams you're listening to in your day-to-day life.
In addition, Last.fm now comes with personalized charts that comprise various artists, their albums, and music tracks. Last, but not least, you can "love" tracks, which allows you to highlight your favorite ones.