It's the end of the line for the Verizon BlackBerry Tour 9630 and the HTC Droid Eris
This article contains unofficial information.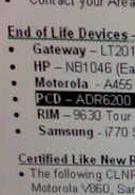 With plenty of new handsets on the way, it looks like it is the end of the road for the BlackBerry Tour 9630 and the HTC Droid Eris. A leaked screen shot of some internal Verizon communications shows that the 9630 with and without camera has been designated EOL (End Of Life), which means that once the current inventory of the device is sold off, stocks will not be replenished after June. This is not unexpected as the sequel to the handset, the Bold 9650, is expected to be launched soon. The 9650 includes Wi-Fi, an optical trackpad and the BlackBerry 5.0 OS.
The PCD ADR6200 appears on the list as going EOL in late May. That device is the HTC Droid Eris and under normal circumstances, letting the handset become extinct after a fairly recent November launch would seem strange. But with the HTC Incredible about to be introduced, the Droid Eris and it's
3.2
inch screen becomes obsolete. Both are Android phones and both are manufactured by HTC. But the Incredible has superior specs-including a 3.7 inch display-and the Droid Eris will not be able to compete with it.
Other names on the list include the Motorola A455 Rival which is no longer available, the Samsung i770 Saga Blue, U310 Knack (in May) and the U960 Rogue (also in May).
RIM BlackBerry Tour 9630 Specifications
|
Review
RIM BlackBerry Bold 9650 Preliminary Specifications
HTC Droid Eris Specifications
|
Review
HTC Incredible Preliminary Specifications
source:
BerryScoop