If hot girls stare at you from above the urinal, it's probably an LG IPS display prank (video)
13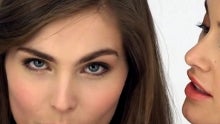 LG is no stranger to weird ads touting its IPS-LCD displays - last time we checked
it scared to death people in an elevator
by creating the illusion that the thing is falling down.
Now it wants to demonstrate how lifelike its ultrawide 21:9 IPS panels can make a few hot girls staring at you while you take a leak at a public urinal, and hilarity ensues.
It set up a public restroom with a few of the new displays above the urinals, showing all kinds of distracting stuff, but, yeah, mainly girls. The elaborate prank was pretty effective, too - average stage fever delay was 16 seconds, and 26% "failure to launch" cases were logged.