LG decides to show how good its IPS LCD screens are, scares people to death in an elevator
29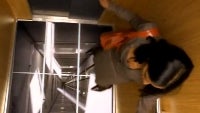 We know there is rarely anything better than a good IPS (in-plane switching) display in the LCD universe, or
so says LG
. Well,
Samsung begs to differ with its PLS (plane-to-line switching) tech
, but since the iPhone is using IPS LCDs, it is the most popular mobile screen technology for the flagship phones of Apple and LG itself, and that's not a small number.
Besides mobile displays, LG also uses the tech in monitors and the like, and decided to show how lifelike images it can produce with a pretty elaborate prank.
It mounted a few such displays on the floor of an elevator, put a camera in there to observe the reactions, and imitated flickering lights and a falling floor, which must have been pretty scary for the guys and gals riding in.
LG is no stranger to weird commercials
, but this here takes the cake and eats it.