If available, would you have picked a version of your current smartphone with two SIM slots for $10 extra? (poll results)
5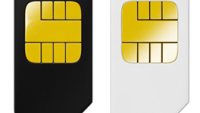 According to Strategy Analytics
, up to a third of global smartphone sales in 2016 will be of devices with two SIM slots. Before the year is out, the research firm estimates that some 431 million dual-SIM smartphones will be sold. This makes sense, specifically considering how emerging markets are now driving growth in the industry. Those also happen to be the very markets where such devices are flourishing, as consumers prefer the flexibility of combining two pre-paid plans in order to get maximum value out of their money.
But beyond mix-and-matching carrier plans, dual-SIM phones are also appealing to people who travel often (especially because of work) and folks who simply have a company
and
a personal number. The availability of a second slot can be quite the added benefit in those cases. That's all good in theory, but does the general PhoneArena readership agree?
That's what we asked you yesterday
.
As it turns out, the vast majority of participants in the poll — 76.66% or 1,116 votes — not only agree, but claim they'd even part with an extra $10 for the same model if available. The remaining 23.34% (355 votes) don't see it that way. A few of the reasons that were given in the comment section include poorer battery life, higher SAR values, and more limited custom development. Do you agree with these?