Here's an up-close look at Bang & Olufsen's new, sweet sounding Beoplay M5 wireless speaker
2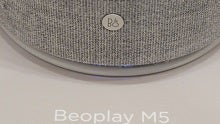 Wireless speakers can fulfill all manner of needs and wants, some are built to be durable and weather the outdoors, others are made to add elegance to the décor in the home.
Bang & Olufsen, a cornerstone of premium audio and elegant designs, introduced a new wireless speaker through its B&O Play brand at CES 2017, the Beoplay M5.
B&O Play makes its products with the idea of appealing to the younger, upwardly mobile professionals that desire premium aesthetics along with premium performance. Like so many Bang & Olufsen products of the past, the Beoplay M5 lives up to that image.
At just over 7-inches tall, six-and-half inches wide, and weighing in at a little more than five-and-a-half pounds, the Beoplay M5 is meant to sit among other decorations and furniture in the home. The build quality exudes a premium feel. From the top aluminum disk to the woven fabric for the speaker grill, the M5 looks the part.
However, does it sound the part? In one word: Yes. The 5-inch 40-watt woofer sends out smooth sounding tones, while the 30-watt mid range speaker and 30-watt triple array of tweeters bring about remarkable clarity.
About that aluminum disk atop the Beoplay M5, it is built with a buttery fluid action in its movement to turn volume up or down. Twisting the disk up to 15-degrees in either direction responds with a smooth return to neutral. Press the top of the disk down, and that will signal the M5 to connect to another speaker.
The M5 supports multiple connections with multiple speakers, and will connect to your home network via Wi-Fi or Ethernet. Chromecast is built in, as is Apple Airplay and Spotify Connect.
Anyone with even a passing knowledge of Bang & Olufsen speakers knows such pretty looks and performance do not come cheap. The Beoplay M5 is available to buy now for $599.