Here is the full list of Apple Stores where you can buy Apple Watch Edition at launch
5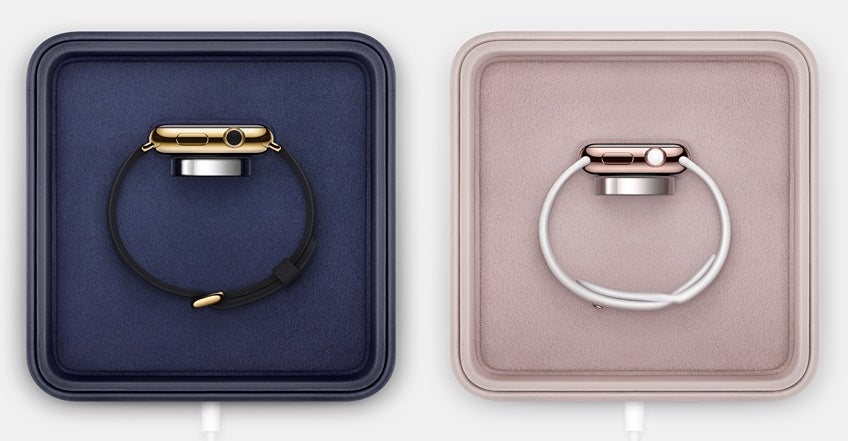 Got ten grand to spare? You could go to Vegas, go on a trip around the world, save an African city from hunger, fly to the moon... wait, we might have gotten carried away, but yes - you could do things for $10,000. You could do even more things for $17,000. And guess what? Those two numbers are prices of something that just went up for pre-order today: the Apple Watch Edition.
Every morning I wake up asking myself: yellow or rose? Those are the two shades of the 18-karat gold Apple Watch Edition
The 18-karat gold, luxurious version of the Apple Watch is most likely not for you. It's not for me, that's one thing that's certain. But if you've got an oil rig, a private jet, a Lamborghini Aventador, or if you're Bill Gates, you could get one. Best of all, you won't even need to stay in line for it. Heck, even if there's a line for it, you'll wait next too Bill Gates (spoiler: you won't, even multi-billionaire Bill Gates with all his money prefers to do meaningful things like solving illness and saving people's lives).
Still, if that sounds like you, you might want to know where the Apple Watch Edition will be sold. Here is a full list of stores that will carry the luxurious gadget:
United States
— New York City: Fifth Avenue, SoHo, Upper West Side
— Boston: Boylston Street
— Chicago: North Michigan Avenue, Lincoln Park
— Philadelphia: Walnut Street
— Washington DC: Georgetown
— Atlanta: Lenox Square
— Miami: Lincoln Road
— Virginia: Tyson's Corner Center
— Newark, Delaware: Christiana Mall
— Bay Area: San Francisco, Stanford
— Los Angeles: The Grove, Third St. (Santa Monica), South Coast (Costa Mesa)
— Las Vegas: Fashion Show
— Houston: Highland Village
— Dallas: Northpark Center
— Seattle: Bellevue Square
Canada
— Toronto: Eaton Centre
— Montreal: Sainte-Catherine
United Kingdom
— London: Covent Garden, Regent Street, Selfridges
Australia
— Sydney: George Street
— Brisbane: MacArthur Chambers
— Melbourne: Southland (Cheltenham)
France
— Paris: Carrousel du Louvre, Opera, Galeries Lafayette
Germany
— Berlin: Kurfurstendamm
— Munich: Rosenstrasse
Hong Kong
— Festival Walk
— International Finance Centre (IFC)
— Causeway Bay
Japan
— Tokyo: Isetan, Ginza, Omotesando
— Osaka: Shinsaibashi
The Apple Watch Edition will also be available in China in some 12 to 19 stores, but we're yet to hear which ones exactly. Pre-orders are open now and the official launch is set for April 24th.