Here are 5 of the most appetizing Japanese food cases for the iPhone 6 in existence
25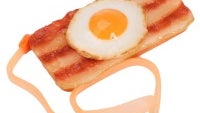 Japanese food cases, they are a thing of wonder! Nothing shows Japan's unrelenting love for the Apple iPhone like slapping a dead-on accurate recreation of a staple national food meal meticulously crafted out of TPU gel! Previously, we've shown you
no less
than two
round-ups of food cases made for the old, but not forgotten iPhone 5s, so we're delighted to present you with the same gooey goodness re-imagined for the iPhone 6!
Yes, we know, the iPhone 6 is old news as the iPhone 6s in rose-gold is
the coolest kid around the block right now
. But the Japanese food case industry is yet to introduce 6s models. This will inevitably happen, just not in this time and place. So, without further ado, feast your eyes and other digestive organs with the savory slideshow below. We can't wait to discover more of these appetising creations out of Japan!