10 weird iPhone 5s cases that will make your beloved handset unrecognizable
36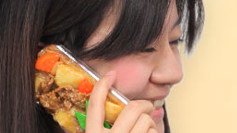 We plunged into the depths of the interwebs in search of the most unusual, bizarre, and sometimes really unpractical cases for Apple's
iPhone 5s
. Surprisingly, it turns out that many of these weird cases are available to buy at well-known locations like Amazon and eBay.
Of course,
not everyone likes smartphone cases
. But lots of users just feel like something's missing if their handset is naked and not protected against eventual drops and scratches. So, if you're one of these users, you have an iPhone 5s, and want a case unlike most of the options out there, we
might
have just what you need.
Each and every iPhone 5s case that we're presenting below will definitely draw attention, essentially making your Apple device unrecognizable (at least when viewed from behind). Most of them are also compatible with the older iPhone 5.
You can certainly comment to let us know if you'd ever want to use any of these cases (or, who knows, perhaps you already own one). Also, make sure to zoom in to see all the details.