Hall of fame: 50 best iPhone and Android original gaming classics
5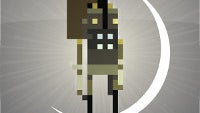 It's been some 8 years since Steve Jobs went up on stage to introduce the Apple iPhone, the device that has shaped the modern smartphone in the form that it has today, along with the App Store ecosystem and a blooming market for games.
Plenty of time for smartphones to build their own fair share of games that have passed the test of time, original titles that made mobile gaming the multi-billion industry it is (and did you know that by some estimates, the gaming industry has recently surpassed Hollywood in sheer sales size?). Eight years is plenty of time and with so many games, we want to take a look back at the iPhone, iPad, and Android hall of fame.
This is a selection of the 50 best
original
game released for iPhone and Android, titles that made a lasting impact be it for one reason or another. We start this list with a trip down memory lane, reminiscing what we played year by year, in chronological order. With no further ado, here is the Android and iPhone hall of fame: the 50 best original games for the two biggest smartphone platforms.
Best iPhone and Android games of
2008
|
2009
|
2010
|
2011
|
2012
|
2013
|
2014
Tap Tap Revenge
Release date: Jul 11, 2008
Genre: Music game
(now removed from app stores)
Tap Tap Revenge was one of the first games to arrive on iOS, and it quickly grew to become a widespread obsession as people tapped away their favorite tunes on those newly discovered touchscreens. Apart from the addictive gameplay, the game had a fairly modern in-app purchase model where you'd pay to unlock songs.
Genre: Racing
Genre: Racing
Genre: Puzzler
Genre: Sword-fighting
Genre: Endless/Casual
Where's My Water opened the floodgates for Disney apps with a - luckily - very good physics puzzler of a game, which happened to kickstart a whole dynasty of 'Where's My...' games.
Genre: Interactive novel
Genre: Multiplayer Online Battle Arena
Delay until it arrived on Android: 48 days (1 month, 18 days)
Genre: Arcade/Casual
Crossy Road is the latest game to enter our hall of fame and chart the way ahead for 2015. What amazing games will arrive this year? We're yet to see, but the sky is the limit.