HTC rumored to release an entry-level tablet in Q2 2015
2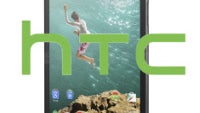 According to a new rumor from reputable leakster upleaks, HTC is working on an entry-level tablet. The source says that the new HTC tablet will be launched at some point during the second quarter of the current year, meaning that HTC could be planning to officially unveil the slab in the upcoming weeks. As there's no hard evidence to back this rumor up, we cannot guarantee the validity of this information.
Unfortunately, the source of this rumor did not provide any other details on the rumored tablet, meaning that we're completely left in the dark when it comes to the screen size, the resolution, the chipset, and the design. The tablet is said to be known as the HTC H7. The code name could be hinting at the fact that we're looking at a 7-inch tablet, and that would also seem the recommended screen size for entry-level Android tablets, but upleaks did not make this observation.
Ever since Google announced the
HTC-made Nexus 9
, rumors suggested that
HTC's plans for the tablet market
looking into the future might go beyond its partnership with Google. The last time we've heard about a potential HTC tablet, a
Nexus 9 version with a MediaTek
chipset was rumored to be launched in the Chinese market. So far, none of these rumors have materialized.