HTC 10 (M10) features "world first, world class" cameras - at least that's what HTC is saying
75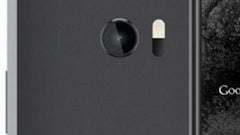 HTC is getting ready to unveil a brand new flagship smartphone that will replace the
One M9
, which is now 1 year old. Not long after telling us that the upcoming handset - called
HTC 10
- would
be a powerful device
, now HTC wants the world to know that the phone features "world first, world class, front and back" cameras. We say
features
and not
will feature
because the HTC 10 (previously known as
HTC M10, or HTC Perfume
) is almost certainly a finished product - all that HTC needs to do now is to announce it.
It's not the first time when HTC talks about this. A few weeks back, a company exec said that its next flagship smartphone would offer a "
very compelling camera experience
." According to rumors, the rear camera of the HTC 10 should be a 12 MP UltraPixel one, but we don't have any details on the front-facing camera. Anyway, at the moment, we can't know exactly how the device's cameras will be "world first, world class." But we really hope HTC won't disappoint us - like it did with the much-hyped 4 MP UltraPixel camera of the
One M7
and One M8 (this camera wasn't really on par with what other flagship smartphones had to offer).
Interesting cameras aside, the HTC 10 is expected to feature a 5.1-inch display with 1440 x 2560 pixels (Quad HD), Qualcomm's high-end Snapdragon 820 processor, fingerprint scanner, 4 GB of RAM, and up to 64 GB of internal memory. Android Marshmallow with Sense 8.0 UI should be on board. Design-wise,
the HTC 10 seems
to be a mix between the
One A9
and One M9.
April 19 is likely the date
when the HTC 10 will be launched - or maybe just announced, we'll see. Until then, let us know if you think that HTC can finally deliver a great camera experience, will you?