Google releases Glass kernel source for interested developers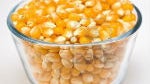 Google Glass has been poked and prodded from every angle since developers started getting their hands on the highly anticipated device. We've found out what
internals
Google used in the device, and a developer has claimed to
root the device
(though it is debatable that a developer device can be rooted. "Rooting" implies gaining access that the manufacturer doesn't normally allow.) Now, Google has released the kernel source code for Glass.
The Glass kernel clocks in at 68.9MB and comes packaged as a tar.xz file. Early analysis of the kernel code by Karthik's Geek Center says that the code has the headers required for NFC support, but we'd say that may just be a red herring. It makes almost no sense for Google to build NFC functionality into a device that you wear on your face.
Still, open kernel code could definitely have some pretty interesting consequences given the engaged developer community that is already surrounding Google Glass.