Google Search app gets Destinations feature to aid your travel plans
1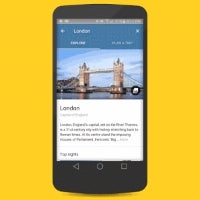 With the latest update to the Google search app, the Mountain View gang of bright minds wants to make it easier than ever to plan your dreamy trip, no matter where you are and what else you're doing in the moment. Travel is huge at the moment, as Google's internal data shows a 50% increase in travel-related searches made via smartphones from last year. As that number grows, it gets harder to get all the right information in one place on a 5-inch or so screen. Besides, planning a trip is no child's play, as there are so many questions and variables to consider! That's why Google masterminded the new feature it's introducing today – Destinations.
Destinations is designed to let you arrange a trip using nothing but Google Search.
Designed with the idea of discovering and planning your next holiday using nothing but the Google Search app, Destinations works by starting a search on your mobile phone for the continent, country, or state you'd like to travel to, then adding the word "destination" to it. This way, you'll instantly see an easy-to-browse collection of options. Harnessing the power of Google Flights and Hotel search, the feature lets you see the available flight and hotel prices instantly. To find a vacation that suits your style, you can search for a destination and something you'd like to do there, and Google will suggest spots that fit your hobbies and interests.
Google also implemented a "Flexible Dates" filter that lets you refine results by month, so you can see when fares and rates will be the lowest within a particular time range across multiple destinations. You can also select any destination and tap the "Explore" tab to see what the weather is like over there or when this place is the most popular. Once you choose a destination, tap "Plan a trip" to see rates for hotels and flights. The app will show you price highs and lows for the next six months, with the results being instantly updated with real-time fares and rates. Results can be customized with additional flight and hotel preferences, such as number of stops, hotel class, and number of travelers.
Check out the gallery of images and the video below to get a quick overview of how Destinations works on your smartphone.
Google Destinations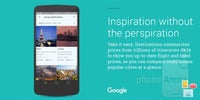 source:
Google