New Google Play Store feature tells you how much storage your phone has left, lets you quickly add more
6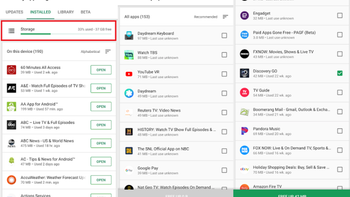 When an Android user opens the Google Play Store and checks out the apps that he or she has already installed, a new indicator will show just how much storage space is available for new apps.
Spotted by Reddit user ijazulhaqci
(via
Droid-Life
), the Storage status feature shows what percentage of the internal storage on a user's phone has already been spoken for. It also shows how much storage space is available, and a status bar gives the user a graphical look at this information.
To see this new feature, open the Google Play Store on your Android phone. Tap the hamburger menu found on the left of the search bar. Click on
My apps & games
, swipe to the
Installed
tab, and you'll find the information on top. But wait, there's more. If you're running out of storage and need to free up some space, just tap on the Storage status bar and you'll be taken to the Free up space page. There, you will have the chance to uninstall any apps that you don't want in order to, well, free up space.
If you study the Free up space page, you'll notice something interesting. The apps are listed in reverse order of use. In other words, the apps you haven't touched for some time will be listed on top while the apps you use most are on the bottom. This gives you an easy way to decide whether to uninstall the History Channel app and use the freed up space to install the Discovery Go app.
Recommended Stories