Google Play Books introduces Bubble Zoom to improve your comic book reading experience on the go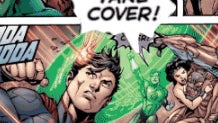 There is nothing quite like going to the comic book store, picking up the latest issue of your favorite series and paging through it ardently, taking in the smell of freshly printed paper. The story thickens with each page, and a familiar sense of dread takes hold of you as the final page approaches way to soon. There, of course, a cliffhanger awaits your curious eyes; one that would make you regret you ever saw it, one that would surely make you come back next month for more. Ah, comic books.
The best way of experiencing your favorite comic book series is still on paper, in our opinion at least. In recent years however, we have learned to love digital comics too, for they are affordable and easily accessible on our mobile devices. Tablets, for example, are very well suited for your comic book reading needs. Smartphones on the other hand – not so much. Fortunately, Google is now trying to change this with a new feature in Google Play Books.
At San Diego Comic-Con 2016, Google introduced a feature called Bubble Zoom, which uses machine learning to identify speech bubbles in comics and expand them for your reading convenience with a single tap. We'd still stick to our tablets for our fix, but this is nonetheless great news for comic book aficionados who like to read on the go.
One caveat of Bubble Zoom is that it will be initially available only for supported comic volumes in Play Books. Google's goal is, of course, for this to eventually change as machine learning continues to evolve.
Bubble Zoom will be initially available as a technical preview in the latest version of Google Play Books, and will support all available Marvel and DC comics collections. Google is celebrating the update with a 50% off sale on select volumes by Marvel and DC and you can get in on it with the discount code
SDCC2016
. The deal is good until Monday, July 24.