Get Modern Combat 4 for Asha phones as a Christmas gift
9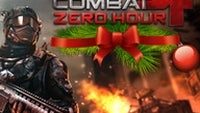 Nokia and Gameloft are already in a Christmas mood. In the next four weeks, they will be giving away one free game for Nokia Asha phones (Asha 205 to Asha 503) each week. The giveaway has already begun with Gameloft's acclaimed military shooter, Modern Combat 4: Zero Hour. Its 2D sprite-based visuals cannot match
the graphical madness of the Android, iOS and Windows Phone versions
, but they nostalgically remind us of the best that yesterday's Java games had to offer.
Modern Combat 4: Zero Hour places you in the boots of an elite soldier, tasked with the mission of rescuing the world's leaders after a nuclear disaster. Not exactly a Christmas carol, but shooting is fun! The offer is only available for one week, so head to the Nokia Store and claim your early x-mas gift.
The next freebie from Nokia and Gameloft will be announced on the 16th of December.


source: Nokia