Nokia Asha 503 Review
33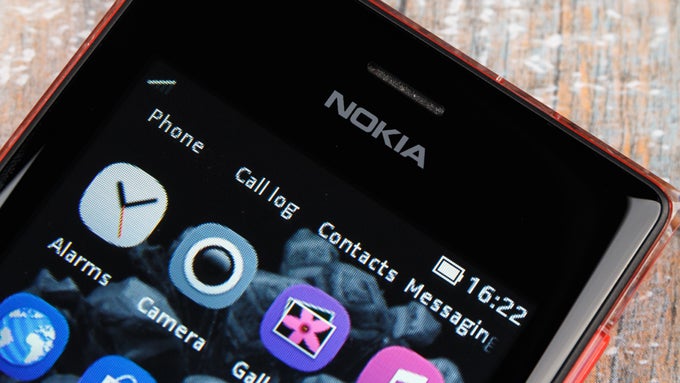 Introduction
The
Nokia Asha 503
is a fun little affordable feature phone coming in vibrant colorful tones. With a unique glass-like outer coating, it appears as if it's in a transparent glossy case and is definitely aiming for the younger crowds.
The Asha 503 comes in a dual and single SIM models (we have the single SIM version for review). It builds up on the blocky design and colors of the
Asha 501
, but adds in 3G connectivity, a more capable 5-megapixel camera and a bit more in performance power. Is all of that enough to justify you buying this feature phone rather than getting an affordable modern smartphone?
Let's find out.
In the box:
Wall charger
Earbud headphones
User manual
Design
The Nokia Asha 503 has a pretty unique design - a translucent glass-like (it's actually plastic) coating covers its vibrant color without hiding it. It looks a bit as if Nokia took this summer's Asha 501 and put it in a glass case. Initially, we were surprised rather than impressed by the Asha 503 design, but overtime this hard coating grew on us and we ended up liking it for the sense of rigidity it gives the phone and just for its unique visuals. The Asha 503 comes in vivid red, yellow, green, cyan, white and black.
This new member of the Asha family is also small and compact as most of its Asha peers and while that does mean you get a smaller display, it also means that the device fits easily in pockets and is actually easy to use with a single hand. It's a bit larger and thicker than the preceding Asha 501, but the difference is small. Truth is it's a bit chubby, but given its compact size, this is not really much of an issue. The phone is solidly put together and it feels like you're holding something that will withstand the test of time and elements, even though this phone is not water or dust protected in any way.
The Asha 503 features a single capacitive 'back' button right below the display and it works in a predictable and consistent way, bringing you back one step at a time. All other navigation in Asha's interface happens conveniently via swipes, but more on that later.
The handset also features a very clicky and easy to press lock key and volume rocker, fittingly positioned on the right. There's also a microUSB port and 3.5mm headset jack on top.
Display
The Asha 503 features a 3-inch capacitive LCD display (covered with protective Gorilla Glass) supporting 262 thousand colors and not the 16 million we're used to seeing on most smartphones nowadays. This makes color transitions less smooth and with a very low resolution of 240 x 320 pixels, images look pixelized, not sharp.
It does not make much sense speaking about color accuracy for such an affordable device, but we still ran our tests only to prove what we suspected - colors are way off in many occasions with a noticeable blueish tint.
Brightness is also way below the average and that makes the screen hard to read outdoors. Viewing angles are also poor and the image washes out significantly at an angle and nearly completely at more extreme angles. Despite all the price considerations, we were underwhelmed by the screen of the Asha 503.
Display measurements and quality