The first Galaxy Note 9 deal goes to T-Mobile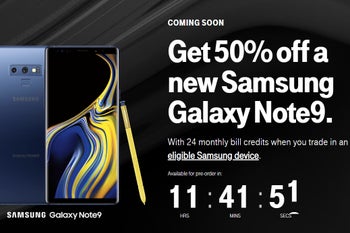 Barely had the Samsung presenter left the stage this morning, and T-Mobile already announced its
Galaxy Note 9
deal, the first out of the gate with one. It's a simple 50% price reduction offer, but there is the big caveat of requiring a qualifying trade-in.
You will basically get $500 off for anything Note 5 and up, and $250 for anything below, down to the Galaxy S5 Sport (say wha?). That means... wait for it... yes, a grand for the phone itself if you don't trade anything in, which makes it the most expensive Note in the history of mankind.
Samsung will cushion the blow with free AKG headphones or $150 worth of V-Bucks for Fortnite and stuff, but still. On the other hand, who's going to give you $500 for the Galaxy S7 if not T-Mobile with it Note 9 deal now. Hurry up, though, it's only available for the early adopters in the next 12 hours, and counting down.