Flickr is bought out by SmugMug for an undisclosed price
4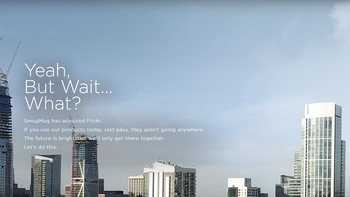 Flickr was purchased by Yahoo in 2005 for $20 million. On Friday, the photo hosting site was bought out by SmugMug, a similar type of site but focused (no pun intended) on professional photographers. On SmugMug's website yesterday, the company celebrated its acquisition of Flickr by saying that the combination represents "the world's most influential photographer-centric community." The price of the transaction was undisclosed.
Founded in 2004 before the mobile revolution, Flickr wound up as part of Verizon
when the carrier picked up Yahoo last year for $4.5 billion
. The site has more than 75 million members and over 100 million active users. Founded in 2002, SmugMug has an old-fashioned type of philosophy which is refreshing in this day and age. SmugMug CEO Don MacAskill says, "We don't mine our customers' photos for information to sell to the highest bidder, or to turn into targeted advertising campaigns." The comments, of course, are a shot at the recent Facebook-Cambridge Analytica scandal, which resulted in the use of 87 million Facebook users' personal information without permission.
While most Flickr users don't pay anything to use it, there is a Pro tier that costs $6 a month, or $50 for a year. Interestingly SmugMug's MacAskill says that he has been a long time fan of Flickr, but admits that he is flying by the seat of his pants as far as this acquisition is concerned.
"I don't know what the future holds. This is a new model for me. We certainly think we need to operate it with an eye to our cash flow and our profitability. We are going to have to take a detailed look at the business and make sure it's growing and healthy...it sounds silly for the CEO not to totally know what he's going to do, but we haven't built SmugMug on a master plan either. We try to listen to our customers and when enough of them ask for something that's important to them or to the community, we go and build it."-Don MacAskill, CEO, SmugMug
Judging from the comments made by SmugMug's CEO, the acquisition of Flickr appears to be a godsend for the latter. With MacAskill's genuine focus on a community of photographers who love taking pictures (as opposed to how Flickr was run under Marissa Mayer), a fresh start for Flickr is at hand.
source:
SmugMug
via
USAToday