First Android store, Androidland, opens doors in Melbourne
31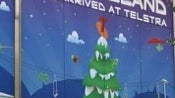 Androidland
, the first store dedicated solely to the Android experience, has opened doors in Melbourne, Australia, with the major participation of Australians telecom Telstra and with the backing of Google and major vendors. It's been in the making since July, but opened for business just recently.
The idea behind the store is to
showcase and educate
. It offers the full experience and even augments it with Gingerbread smells and other neat little touches like a big-screen Angry Birds gaming. Of course, it's mostly about checking out the latest tablets and smartphones, to have that valuable hands-on experience, which could easen up a transition from another platform or a feature phone for users.
The store occupies 154 feet and is planned to be open in the next six months, and it could stay longer if customers accept it warm enough. But probably the most important thing about the store is the human factor with employees ready to explain and help with all things Android. Now, this is just an experimental project and we wouldn't see it as nothing near the Apple Store level of customer support and retail, but it's definitely an interesting venture, don't you think?