Feedly updates its iOS and Android apps
2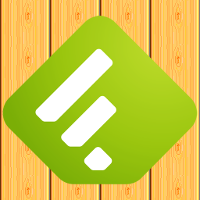 News feed reader Feedly has updated both its iOS, and Android app. On the iOS side, the update optimizes the news reader for the 4.7-inch
Apple iPhone 6
, and the 5.5-inch
Apple iPhone 6 Plus
. It adds iOS 8 sharing extensions, tagging, and improves the layout on Apple's phablet. The update also clears up a sign-up bug that prevented new users from accessing the app.
On the Android side of the coin, Feedly has updated its app to match the new Material Design, and to run on Android 5.0 powered devices like the
Nexus 5
,
Nexus 6
,
Nexus 7
and the
Nexus 9
. The Nexus 6 can now view the app in landscape, and tags can be removed.
Want to discuss certain news events with your friends? Both updates include integration with Facebook Messenger. If you already use Feedly, your update should be waiting for you at the appropriate app store. If you're not a subscriber to the service, you can join by installing the free app from the App Store or the Google Play Store.
source: Feedly (
iOS
|
Android
)