Fan TV app tips how to get to over a million movies and shows: from HBO to Hulu or Netflix
4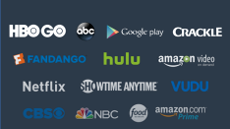 Fan TV is a new app made for the cord-cutting era that has already dawned upon us. It houses over a million movies, TV series and documentaries in its database, lets you create a wish list, and tips you when the next episode is due. To top it all off, Fan TV lines up all the venues you can get the movie or TV series on - from the Play Store, through HBO, to subscription platforms like Netflix or Hulu, complete with pricing details.
With major broadcasting networks now streaming their channels online for a small fee, and content producers like HBO or Netflix offering mobile access, there has never been a better time to pick and choose whatever you feel like watching, instead of relying on a pricey cable pack with hundreds of channels you never set your remote on.
Fan TV is the coffee table TV Guide of this new entertainment streaming era, and it comes with an easy, polished interface to boot. Check out the app's promo video below, and grab it from the source link, if you feel the urge to take it for a spin.
| | |
| --- | --- |
| Developer: Fan TV | Download: Android |
| Category: Entertainment | Price: Free |