FCC shows the tiny Motorola A1200 Linux smartphone with touch-screen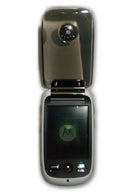 We've already reported about the upcoming slim smartphone A1200 from Motorola, but now it is already on the FCC page with documents revealing more information about it. The slim device will apperantly operate on Linux OS and will support handwriting recognition and on-screen keyboards for inputing methods. The A1200 will features phonebook with multiply numbers per contact and information plus dedicated images per contact. The phone can send both SMS/MMS and has Instant Messaging function, as well as IMAP/POP3/SMTP email support. The A1200 is also powerful multimedia device with MP3 music player, which uses T-Flash (microSD) memory expansion and FM Radio. A1200 also features camera with business card reader, zoom, and mirror.

The official FCC information point out that the A1200 will be tri-band GSM (850/1800/1900) with GPRS/EDGE high-speed data and Bluetooth/USB for local connectivity and synchronization. According to some rumors, the A1200's screen is TFT, supporting QVGA (240x320) resolution with camera capable of snapping pictures at 2.0 mega pixels.

If the A1200 is announced during CES 2006, we will definately get some more info/pictures.

Source:
FCC