Entry-level Samsung Galaxy Fame is announced with 1GHz processor and Android 4.1
14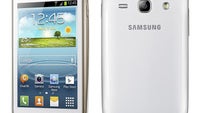 Here's a new smartphone that is shaping up like a decent entry-level Android offering. It is known as the Samsung Galaxy Fame and it was just announced officially
after being leaked on the web several times already
. Dressed in pearl white or metallic blue, the handset comes with unimpressive, yet passable hardware specs and Android 4.1 with Samsung's nature-inspired interface on top, so all the device now needs is a reasonable price tag.
How much the Samsung Galaxy Fame will cost, however, isn't yet known. What we
do
know, on the other hand, is that it has a 3.5-inch HVGA TFT screen, 512MB of RAM, and a 1GHz processor of unspecified make and model. There's a 5MP auto-focus camera on its back paired with an LED flash, and a front-facing camera is located above its screen. Other notable specs include a smallish 1,300mAh battery and measly 4GB of storage, which can be expanded with the use of a microSD card. The handset weighs 120 grams, has a thickness of 11,6 millimeters, and will come in NFC flavor as well.
Out of the box, the Samsung Galaxy Fame will run Android 4.1 Jelly Bean with a handful of UI tweaks added, courtesy of the smartphone's maker. These include motion gestures, such as a shake to refresh information displayed on all active widgets and flipping the device face-down in order to mute an incoming call.
And that's the Samsung Galaxy Fame in a nutshell. Again, the smartphone won't impress any power users, or even anyone who has ever handled an Android mid-range device, but it could be an all-around nice handset for customers on a budget, as long as it gets the right price tag stuck to it. We don't yet know when the Samsung Galaxy Fame will hit the shelves, but we suppose that it will be on display later this month at MWC.
Samsung GALAXY Young and Samsung GALAXY Fame
February 4, 2013
SEOUL, Korea - February 4, 2013
- Samsung Electronics Co., Ltd, today announced the Samsung GALAXY Young and Samsung GALAXY Fame. The GALAXY Young, available in white, deep blue, wine red and metallic silver, is a smart and affordable Android playmate for the younger, stylish generation of mobile users. The GALAXY Fame, available in pearl white and metallic blue, combines powerful performance with an essential suite of features and services, all packed within a stylish design.
• The GALAXY Young and GALAXY Fame offer a smart and intelligent user experience powered by Android™4.1 (Jelly
Bean), which enables seamless screen transitions between apps and taking and sharing photos and customizing your
home screen easier. Powered by a 1GHz processor, these new phones ensure swift operating speeds for smooth
multitasking, fast webpage loading and soft UI transitions. Also, with 4GB of internal storage and a 1,300mAh battery
capacity, users can enjoy extended multimedia use and longer talk time. Connectivity through Wi-Fi Direct allows easy
content sharing between nearby devices.
• Completing the smartphone experience, the GALAXY Young and GALAXY Fame come preloaded with Samsung Game
Hub Lite, which allows easy access to fully optimized, best in class games for these devices. Samsung's device
management software, S Cloud, provides safe and simple syncing, back-up and storage options for information such
as contacts, bookmarks, and SMS.
• These new devices also understand your movements with their intuitive Motion UI. Simply shake the devices to refresh
and update widgets and other content. If you are unable to take a call, you can just turn over the device to mute the ringer.
• The GALAXY Young and GALAXY Fame will be available in two versions depending on the market. The additional value
of a Dual SIM delivers the convenience of two phone numbers for calling, texting and web usage at work or play. With
the Always On feature, you never miss a call with call forwarding to the other SIM. And Hybrid Dual SIM lets you use 3G
data on one SIM while receiving a call on the other SIM.
Samsung GALAXY Young
• With a compact, curved frame, the GALAXY Young has been designed with an ergonomic style and finished with simple
clean lines, providing a comfortable grip. Beyond its chic design, the 3.27" full touch HVGA resolution screen makes
viewing photos, messages and multimedia clear and detailed. Dropbox gives access to your files wherever you are;
you can edit photos and videos, upload and share freely with family and friends.
Samsung GALAXY Fame
• The Samsung GALAXY Fame is a stylish device coupled with a sophisticated, simple and powerful user experience.
With a 5 megapixel camera, users can capture precious everyday moments. It comes with Bluetooth® 4.0, allowing for
the GALAXY Fame to instantly share information with other Bluetooth enabled devices. Also equipped with NFC, the
GALAXY Fame allows easy sharing via S Beam with other Samsung smartphones by simply touching two different
devices' backs.
Recommended Stories