Eco-friendly Motorola GRASP WX404 shows off its conscious style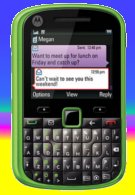 There's no denying the fast pace Motorola is pushing out Android powered smartphones out of their doors and into the hands of consumers, but the Motorola GRASP won't be following in the same footsteps. Instead, this eco-friendly portrait QWERTY device will be making its name by focusing on the still profitable business of feature phones that pack a decent amount of goodies into their slim packages. This one is actually looking to show its presence through MetroPCS seeing that its has CDMA/EVDO/AWS connectivity on board. Not only is it an environmentally conscious device, seeing that it's "BFR and PCV free with a housing that is 100 percent recyclable at end of life", but it sports a decent mix of features that should find a niche to a broad range of users. Some of the features include a 2.2" display with a 220 x 176 pixels resolution, portrait style QWERTY,
1.3
-megapixel camera, GPS, Bluetooth
2.1
, and microSD card support. Even though pricing has yet to be made public, you can expect to see this become available some time this quarter. Android might be looking like the flavor of the week, but that doesn't stop Motorola from still sticking to the bread and butter of their business.
source:
Motorola
via
Unwired View