Dell plans to bring over Android handset to the US in 2010?
This article contains unofficial information.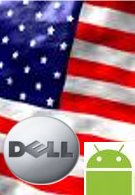 We haven't seen any Android powered handsets from Dell in our part of the woods, but we know for sure that China Mobile is getting their fair share in the form of Dell's mini 3i smartphone. Fortunately it's only a matter of time before we'll see some incarnation of that device hit our shores. CEO and founder Michael Dell informed a reporter on October 13 that the PC manufacturing giant intends to have an Android smartphone in the US sometime in early 2010. In addition, Dell confirmed the news to tech journalist Jean-Baptiste Su of TechPulse and the French News Agency – we'll probably see it in the first months of next year. Instead of using the specially designed version of Google's Android platform found on the mini 3i called oPhone, they'll most likely use an older version of Android and perform some tweaks to the interface. If you look at the calendar, 2010 isn't too far away from now – it's basically just around the corner.
via
eWeek