Dell has the unlocked Nokia N8 for $450 - oh, the color on this one!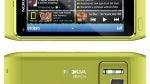 Dell is famous for having bargains on gadgets that are kind of unrelated to its core offerings. Now you can have the pride of Finland - the Nokia N8 with 12MP camera and Xenon flash - for $450 unlocked, which is the best price for a new handset we've seen.
The catch - the only color for that price is lime green. The green version looked less tacky in promotional materials, so it might be that Dell's graphics editors have played around with it too much, or an entirely new shade is coming out.
Still, a pentaband 3G phone with HDMI-out, 12MP camera with the largest sensor on a phone, and Xenon flash for $450 off-contract? We'd gladgly take it, even if we have to slip on something over the loud anodized aluminum casing.
Hit the link to Dell's website below, if interested.
source:
Dell

Recommended Stories