Deal: The powerful ZTE Axon 7 64GB is on sale for just $310 (22% off) at Newegg
4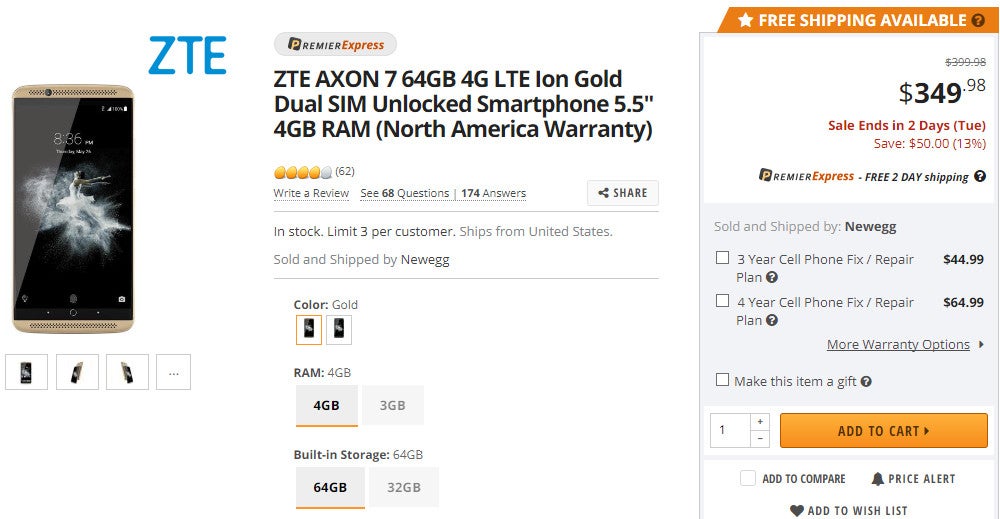 The ZTE Axon 7 is a powerful smartphoneeven by today's standards. The last year's flagship is available inthe US for quite a while, but it was a rather hard to come byproduct.
Unfortunately, by the time ZTE was ableto provide enough units for the high-demand, many customers havedecided to go for other flagships in the same price range.
Speaking of price, the Snapdragon820-powered ZTE Axon 7 is now on sale at Newegg, so those who arestill looking for a decent high-end smartphone that doesn't go overthe $350 price mark, then you might want to check out this offer.
It appears that forthe next two days, the unlocked 64GB ZTE Axon 7 costs just $310 atNewegg. Even though the retailer lists the smartphone at $350,customers can apply the EMCSRKBJ3 code when checking out foran additional $40 discount.
Basically, you'll be saving $90 (about22% off) if you decide to take Newegg's offer on the ZTE Axon 7. Keepin mind that even if this is the unlocked variant, it will only workon GSM-based networks used by carriers like AT&T, T-Mobile,MetroPCS, and Cricket.