Deal: Misfit anniversary sale offers massive discounts on all smartwatches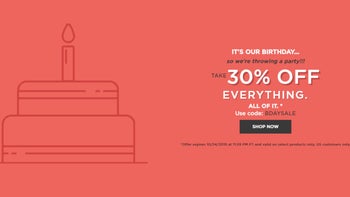 Misfit is running a massive sale on its website in celebration of its birthday. Apparently, the company is taking 30% off everything that's listed there, although the deals are not available to everyone.
First off, it's worth mentioning that the promotion will run until October 24. Secondly, the deals are available on select products for US customers only. Last but not least, you must use the
BDAYSALE
code at checkout to benefit from the 30% discount.
Apart from the generous 30% discount, the best thing about Misfit's anniversary sale is the fact that the most recent smartwatches launched by the company, the Vapor X and
Ronin
are on sale as well.
The Vapor X usually sells for $280 and the Ronin for $150, which means US customers should be able to them for $196 and $105, respectively. Of course, these are not the only Misfit smartwatches getting 30% discounts, the Misfit Path, Vapor and Command are on sale too.
Also, shipping is free for all orders placed during the anniversary sale, the more reason to check out Misfit's promotion. Luckily, you have more than a week to choose what to buy, if you think Misfit smartwatches fit your style.