David Fincher may not direct the Steve Jobs biopic
2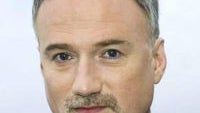 Ever since it was first announced that Sony had the rights to the Walter Isaacson biography of Steve Jobs, the rumor had been that the plan was to reunite the writer/director team that had made the Facebook movie,
The Social Network
. The writer,
Aaron Sorkin
, was secured early on, but it was more difficult to get David Fincher to direct. Now, word has it that Fincher may be out.
Apparently, Fincher had been asking for $10 million in up-front fees, which was simply unacceptable to Sony. Fincher has certainly proven himself to be a director that can make hit movies, but Sony doesn't think that a Steve Jobs movie will be enough of a commercial hit to warrant too much up front. A source with ties to Sony even went so far as to say:
You're not doing Transformers here. You're not doing Captain America. This is quality — it's not screaming commerciality. He should be rewarded in success but not up front.
Of course, Fincher isn't 100% out. There is still a chance that he could re-enter negotiations, but he would have to seriously back off of his demands. No word yet on what this might mean as far as the rumor that
Christian Bale
was the front-runner to play Jobs. Bale was one of the top picks of Fincher, but negotiations with Bale hadn't formally begun yet.