Christian Bale rumored to play Steve Jobs in next biopic
15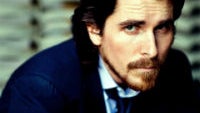 We've already gotten two Steve Jobs biopics that ranged from intentionally bad ("
iSteve
", starring Justin Long), and unintentionally bad ("
Jobs
", starring Ashton Kutcher.) But, there is still a Steve Jobs biopic that is in the works that has at least a chance to be good, which is the as yet untitled movie being made by "The Social Network" writer/director duo Aaron Sorkin and David Fincher.
The new word is that Christian Bale is the frontrunner to play Steve Jobs himself, or at least that the former Batman is director David Fincher's top choice. Bale apparently hasn't actually been approached for the role yet, although he has been rumored to be a contender since before there was even a script. Bale is currently taking a break after having finished playing the role of Moses in Ridley Scott's upcoming Bible epic "Exodus."
The biopic from Sony has been in the works for the past three years since soon after Jobs passed away.
Aaron Sorkin
was signed first to adapt Walter Isaacson's biography into a movie about Jobs' life, and David Fincher was added to the project soon after. As mentioned before, the duo had been responsible for the Facebook movie, which received mixed reviews from the tech community because of Sorkin's seeming disinterest in technology. As Mark Zuckerberg said at the time, "They just can't wrap their head around the idea that someone might build something because they like building things", which led to "a big disconnect from the way that the people who make movies think about what we do in Silicon Valley.
So far, the rumors around the Jobs pic have stirred up similar concerns, because Sorkin's initial
outline
didn't even include the iPhone. Still, given the names being tossed around for the project, it's hard to imagine the movie being bad. "The Social Network" wasn't a bad movie. It was actually quite good, if you took it as a work of fiction.