Conan O'Brien almost gives iPhone 5 a hands-on
24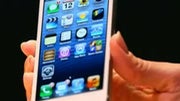 And the latest guy to publicly make fun of the new
iPhone 5
is Conan O'Brien, who attempts to check out first hand Apple's new smartphone. Focus is on "attempts" as something goes terribly wrong along the way, although you'll have to watch the entire video in order to find out what it is.
As you've probably noticed, Team Coco does not miss the chance to make us all laugh by poking fun at the hottest gadgets. Just yesterday, we told you about the
fictional Wendell tablet by Amazon
, retailing for just $5, and back in August, the
Apple vs Samsung trial
was put under the spotlight. Their latest skit does not disappoint either, so feel free to check it out, and in case it managed to put a smile on your face, let us know by dropping a comment!