Chinese smartphone shipments continue to fall, decline 34% from last quarter
21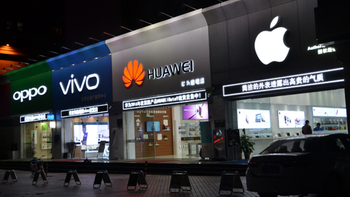 Last week, we told you that
global smartphone shipments dropped 2.9% in the first quarter
led by a decline in Chinese smartphone shipments. While we knew that the number of shipments in China declined to less than 100 million units for the first time since Q3 of 2013, we now have a better handle on the weakness in that country. According to a fresh report published on Friday, the number of smartphones shipped in China during the first quarter of 2018 tallied less than 90 million units.
Some of the decline can be blamed on the Chinese Lunar New Year. The holiday cut into smartphone production. As a result, on a sequential basis, shipments declined 34% from the fourth quarter of last year. Since the fourth quarter includes the holiday shopping season, that decline might not be as ominous as the 13.4% drop year-over-year. Chinese shipments as a percentage of the total number of Q1 global smartphone deliveries dropped under 30%.
The top five smartphone manufacturers in China from January through March, in order, were Xiaomi, Huawei, Oppo, Vivo and Apple. Xiaomi was bolstered by the launch of the low-cost Redmi 5 Plus, which was priced at 1,000 Chinese Yuan ($157 USD). Falling from number one to number two was Huawei, which suffered a 40% sequential drop in shipments. Both Oppo and Vivo, along with Huawei, had to push older models since all three didn't have any new handsets to sell in the country. Oppo and Vivo both suffered shipment declines of 30% sequentially. Apple's shipments in China were off 25.6% from Q4 2017; with its fans eagerly awaiting the 2018 iPhone models, Apple's shipments in China are expected to decline another 30% sequentially in the second quarter.
The good news is that overall Chinese smartphone shipments should rise sequentially in the second quarter, thanks to the introduction of new models by domestic vendors. On a year-over-year basis though, the number of shipments is expected to decline once again.
source:
Digitimes