Samsung remains on top as global smartphone shipments drop 2.9% in Q1
50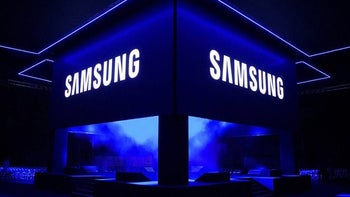 For the first time since the third quarter of 2013, quarterly smartphone shipments in China totaled less than 100 million units leading global smartphone shipments to decline 2.9% in the first quarter. Overall, 334.3 million handsets were delivered from January through March, down from the 344.4 million shipped during the same period last year. Samsung remained on top with a total of 78.2 million units in transit during the period, down 2.4% from the 80.1 million shipped last year. Because the overall number of phones delivered was lower, Sammy actually saw an increase in market share from 23.3% to 23.4%.
Apple was second,
having shipped the previously reported 52.2 million iPhone handsets
during the quarter, 2.8% above last year's total. Apple saw its market share rise to 15.6%, and while its Average Selling Price at $728 was below expectations, it was above the $658 recorded last year. In third place was Huawei. The Chinese manufacturer set a new company record by grabbing a market share of 11.8% after shipping 39.3 million phones for the three month period. That was a 13.8% year-over-year increase in the number of handsets delivered, which wasn't bad considering that
Verizon and AT&T decided at the last moment
not to carry the
Huawei Mate 10 Pro
.
Xiaomi has had strong external growth in countries like India, which helped it increase shipments in Q1 by a whopping 87.8% over last year's number. With 28.8 million units shipped, the company owned 8.4% of the global smartphone market during the three month period. Oppo finished in fifth with a market share of 7.1%. It shipped 23.9 million devices in the quarter, a decline of 7.5% year-over-year.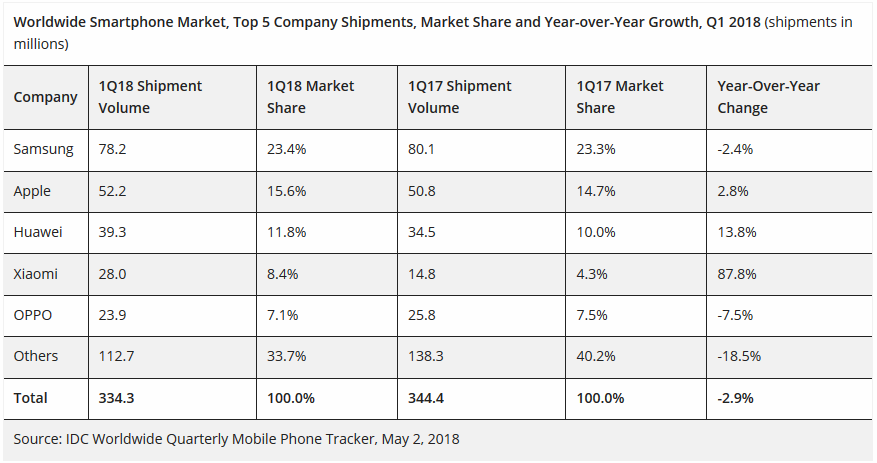 Samsung and Apple remain the top two smartphone manufacturers in the world
source:
IDC