BlackBerry loses its Executive VP for BBM, Andrew Bocking
7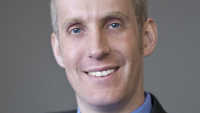 A terse statement from BlackBerry confirmed on Monday, that Andrew Bocking has left the troubled Canadian manufacturer. Bocking was the Executive VP for messaging service BBM, which meant that he was the top man on the BBM totem pole. One published report cites an anonymous source as saying that BlackBerry let him go as it plans on moving BBM to the enterprise group.
There also was talk that the executive was becoming unhappy with BlackBerry, to the point that he replaced his BlackBerry phone with an Android model. However, another source cited in the same report says that Bocking was not let go, and that he was poached by a competitor. This source says that the loss of Bocking is a "
big loss
" for BlackBerry, especially since BBM is one of the few positive things that BlackBerry has going for it.
"I can confirm that Andrew Bocking, EVP, BBM has made the decision to leave BlackBerry. We thank him for his years of leadership and contribution."
-BlackBerry
BlackBerry CEO John Chen has been talking about monetizing the service
once BlackBerry Channels is up and running on the iOS and Android versions of the app
. These are basically discussion groups opened by and for BBM subscribers. Chen has discussed allowing corporations to promote their products using paid BlackBerry Channels.
source:
BGR