Best Buy's one day flash sale offers big discounts on Apple devices, headphones and more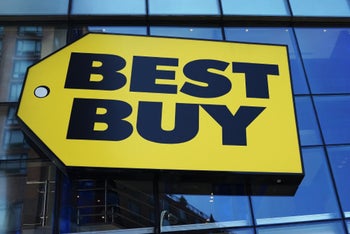 Today only, Best Buy is running a one-day flash sale with big discounts on some of the best Apple devices - including the iPad,
Apple Watch
series 3 and Macbooks - as well as some great deals on headphones, including truly wireless ones.
For those who care about mobile devices, the stars of the show will be the price cut on the fifth-generation iPad that you can now get for $80 off the official price and the Apple Watch Series 3 GPS model that is offered at $30 discount.
Truly wireless
earbuds
are also sold at big discounts: you can have the popular Dragi Dash earbuds for $100, a full $200 off their official price. Take a look at these and other cool deals at the link right below:
iPad 5th Gen - save $80 on select models
Apple Watch Series 3 GPS - save $30
Macbooks - save $300 to $400
Dragi Dash - buy them for $100, save $200
Bose Sound True - buy them for $60, save $70
Beats Solo 3 - buy them for $200, save $100
Beats Studio 2 - but for $210, save $170
more...
*Sale ends today at 11:59 p.m. CT.