Best Buy Black Friday in July deals are live with Apple iPad, Watch, and Motorola promos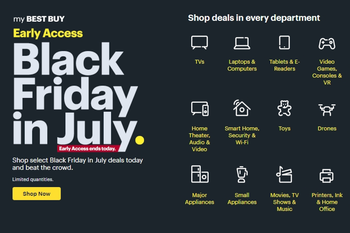 Best Buy's answer to Amazon's successful Prime Day deals bonanza - the annual "Black Friday in July" event - is now live in the form of early access offers after you register, with promos and discounts on all sorts of electronics, including phones and tablets. So what can you save on and which are the top deals?
We looked specifically at the best deals on phones or tablets, and have selected a few ones that will surely interest you. Let us also make this clear: we track deals on a daily basis, and these are some of the best you'd find.
If there is a device on this list that you like, do not hesitate to get it at these prices. With no further ado, here are our top picks for Best Buy's Black Friday in July sale which, as usual, ends on Saturday, 7/27:
Best Buy Black Friday in July Apple iPad and Watch deals
The early access listing include a veritable gold mine of Apple deals that usually don't come fast and furious:
Get $250 off select iPad Pro models


Get up to $100 off the Apple Watch


Get up to $100 off the latest iPad generation

Beats Solo³ Wireless Headphones $160
Best Buy Black Friday in July Motorola and LG phone deals
While there are no hard hitters like the current up to $500 off the Galaxy S10 family offer from Best Buy, there are some sweet discounts on Motorola and LG phones:
Up to 40% off on Motorola handsets