Asus FonePad 7 announced: affordable tablet with phone functionality
2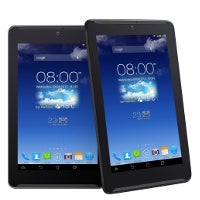 Asus has just stormed into IFA with a torrential rain of mobile devices. Among them are two new FonePads, gadgets that are on the border between a phone and a tablet: the
Asus FonePad Note 6
and the Asus FonePad 7. The index in the name stands for the screen size, so we're looking at a 6-inch and a 7-inch device, and they come with pretty narrow bezels and Intel inside.
Asus' Jonney Shih introduced the FonePad 7 as a phablet, but it's really more of a tablet with phone functionality, and now it comes in a new and upgraded version.
The FonePad 7 leans decidedly towards the affordable - it packs a 7-inch display with a resoultion of 1280 x 800 pixels, runs on the older Intel Z2560 1.6GHz chip and has less RAM.
On a positive note, Asus still managed to include stereo front speakers, Android
4.2
Jelly Bean, a 5-megapixel rear and a 1.2MP front cameras, and battery capable of running for 10 hours on a single charge.
The device will also sport cellular connectivity and come in 8GB, 16GB and 32GB models. It's 340 grams heavy and 10.5mm thick. Not bad, is it?