Ark: Survival Evolved coming to Android and iOS on June 14
0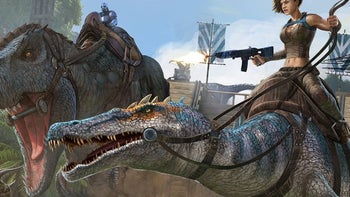 Developer Studio Wildcard has just announced that Ark: Survival Evolved will be released in the App Store and Google Play Store on June 14. Although it's no surprise that the game is coming to Android and iOS
since it was unveiled back in March
, it's still nice to know when exactly it will be available for download.
Ark is one of the survival games that made a splash on PC a while ago but remained buried by the number of games of the same genre that came soon afterward. Ark: Survival Evolved survival in a world dominated by dinosaurs.
Players can tame dinosaurs, craft weapons, clothes, items, and build shelter, villages, and even large cities. Also, the game allows players to plant build, level-up and customize everything visually and functionally, including procedurally-generated RPG statistics for creatures, characters, resources, clothing, gear, and weapons.
You can either play alone or together with up to 50 other players. The guild system is represented by the Tribe feature that allows players to cooperate by supporting dynamic parties to share resources, experience point, and re-spawn points.
The good news is Ark: Survival Evolved is completely free, so you won't have to spend a dime playing it on either Android or iOS. Also, players can obtain every purchasable structure, item, and buff in the game without paying real money. Even the in-game currents – Ancient Amber can be obtained without purchasing it directly.
However, the developers also offer a subscription service that applies across all servers an in single player with Primal Pass. This pass is available on a subscription basis for $3.99 a month (or $34.99 per year) and offers a permanent double XP buff, the removal of all ads, reserved slots on all servers, early access to news and upcoming special events, as well as access to the game's Primal Pass-exclusive servers.