Archos Arnova 7 Android tablet coming for $99
3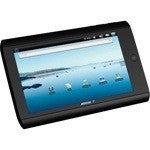 Android tablets are getting cheaper, but this seems a bit crazy. Archos has announced the Arnova 7 tablet, which will retail for just $99. Of course, you'll be getting what you pay for with this tablet.
The Archose Arnova 7 will feature an 800x480 resolution 7" screen, 4 GB of storage, and Android 2.2. It is a barebones tablet with no cameras or GPS, but it will have a USB port and micro SD card slot. Unfortunately, there is no information available on the processor speed or amount of RAM, but we don't expect those to be too impressive. Although, Archos is promising the ability to playback 720p video and even playback for various codecs like avi, mkv, and mov files.
In the end, it will be a tablet that will be as limited as you could expect given the price, but it could be a great option for kids or people looking for the bare minimum. $99 is hard to beat, but the way things are going, we wouldn't be surprised to see an even cheaper tablet soon enough.
source:
Arnova
via
Android Authority